20 March 2018
News Release
New Milton Town Mayor's Charity Ball – 16 March 2018
The Town Mayor of New Milton, Cllr David Rice-Mundy, and his wife Mrs Susie Rice-Mundy, hosted a very well-attended and well-supported charity ball last Friday at Hoburne Bashley.
Zac and the Zeros, the ever popular rock n roll band, provided the music and the Mayor's guests enjoyed the dancing, as well as dining on a delicious menu, and the opportunity of winning some fantastic donated raffle prizes.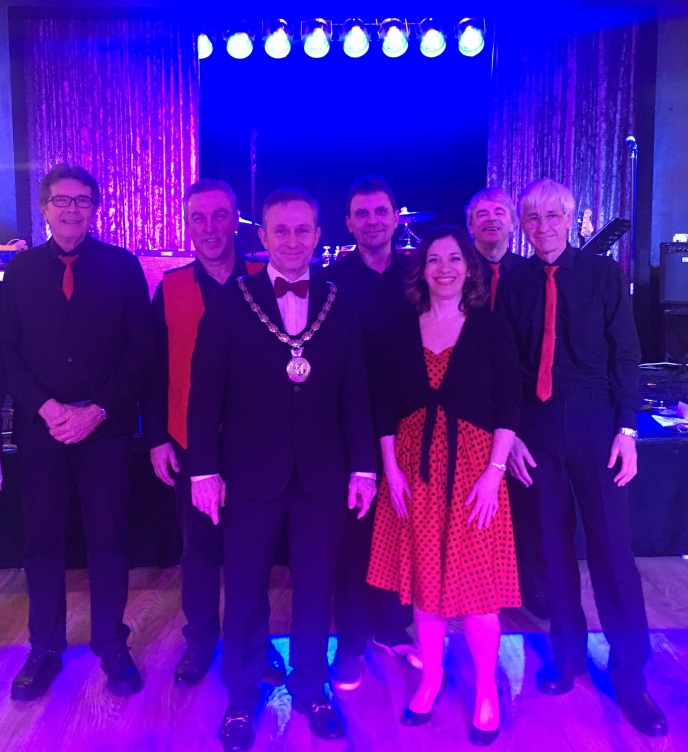 New Milton and the wider New Forest community have been very generous with their donations and the Mayor acknowledges their support.
Click here to view the list of acknowledgments
The success of the evening was thanks to the participation and generosity of the guests with everybody coming together to raise funds for the Mayors nominated charities Scarf New Forest and New Forest Young Carers.
New Milton Town Mayor, Cllr David Rice-Mundy said, "I thank everybody for coming along to support our fund-raising as both my charities are providing much needed support, activities and services – and are much appreciated by the young people and families who really need it"
Having fun while fund-raising meant that an amazing £1,433 was raised, coming in from event tickets, raffle sales and the auction of a signed AFC Bournemouth shirt, generously donated by AFC Bournemouth, which bolstered the coffers on the night. Staff from local company New Milton Sand & Ballast joined the Mayor at the event, donating generously, offering high value vouchers to be auctioned.
Hoburne Bashley provided amazing facilities and superb hospitality, as well as donating vouchers for beauty and spa treatments, and a visit to their woodland facilities.
Raising awareness of Scarf New Forest and New Forest Young Carers has been a priority for the Mayor this year, and he continues to share and highlight the vital work they do.
Further details contact Graham Flexman, Town Clerk, Tel 01425 619120