Press release
We are pleased to announce our programme of music being held at the Performance Pavilion on the Recreation Ground this year. The well-established Afternoons of Music are an important part of the New Milton summer and plans for this year follow a really successful last year of performances, being aided by the good weather, with residents and visitors keen to enjoy the free music out in the open.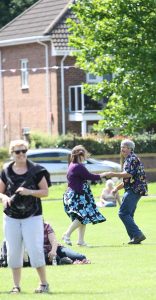 Last autumn we carried out a Survey Monkey questionnaire asking residents about their musical tastes and recommendations.   The feedback we received helped us to put together the 2018 programme, so thank you to everyone who participated.
This year performers will include the wonderful New Forest Big Band on 3 June; special guests on 1 July will be The Band & Bugles of The Rifles; the ever popular local band We are Robot on 5 August, and New Forest Brass Band on 3 September. Each event offering a different genre – a little bit of everything to tap your feet to.
The first event kicking of the season is the Musical Youth Concert on Sunday 20 May 2018 at 2pm, showcasing young local talent from local schools and groups. There's an exciting line-up including the successful Priestlands School steel pan band, the delightful Coda kids ukulele band, and some fantastic musical performances from Arnewood School and Barton Court Studios, and a feast of dancers from Forest Arts Centre, plus other musical treats on the day.
Running alongside the Musical Youth Concert on the Recreation Ground, there will be a teenage market where our young entrepreneurs will offer goods and wares for sale and we hope that the community will come along to support them.
To celebrate Armed Forces Day at the end of June, we have been lucky to secure a booking with The Band & Bugles of The Rifles, and we are honoured that they will be spending the afternoon with us playing their concert classics. They have a unique dress and style and promise to be a real treat for the town.  Their performance will be on Sunday 1 July 2018.
Cllr Geoff Blunden said "I'm delighted that New Milton Town Council is able again this year to provide these so popular summer musical events in the centre of town. The concerts offer a wide range of music to suit all ages and tastes, and have proved very popular, not only with local residents but those visiting the area on holiday.   Do make a note of the dates in your diary for the Performance Pavilion, and don't forget it's free.  All we need is some lovely summer weather".